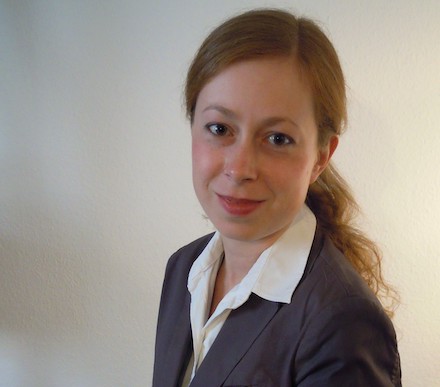 Dr. med. Sophia Danhof
Medizinische Klinik und Poliklinik II, Abteilung für Hämatologie/Onkologie
Universitätsklinikum Würzburg
Oberdürrbacherstraße 6
97080 Würzburg
Phone: +49 (0)931/201-44922
Email: danhof_s@ukw.de
University training and degree
since 2017 Master of Health Business Administration
University: Friedrich-Alexander-Universität Erlangen-Nürnberg
Degree: pending
2005 – 2012 Medical studies
Universities: Julius Maximilians-Universität Würzburg, StGeorge's University of London (UK), Université Paris Descartes (France)
Degree: Zweiter Abschnitt der Ärztlichen Prüfung "sehr gut" (31 may 2012), Approbation (27 jun 2012)
Advanced academic qualifications
2010 – 2013 Doctorate
Subject: Molecular investigation of the interaction of Neutrophil Extracellular Traps with the human pathogen Neisseria meningitidis.
University: Julius Maximilians-Universität Würzburg Medical Faculty, Institute of Hygiene and Microbiology
Year of oral examination: 2013
Supervisor: Professor Dr. U. Vogel
Postgraduate professional career
Since 2019 Early Career Project Leader at the Mildred Scheel Early Career Center (MSNZ) Würzburg
Since 2018 Sub-specialty training Hematology and Medical Oncology at University Hospital Würzburg, Division of Medicine II, Department of Hematology and Medical Oncology
2018 Board certification "Internal Medicine"
2016 – 2018 Clinician scientist training within the Else Kröner-Research College for translational immunology Würzburg
2017 Clinical-scientific observership at Memorial Sloan Kettering Cancer Center, New York (USA)
Host: C. Ola Landgren, MD, head of Department of Multiple Myeloma
2014 – 2015 Research (IZKF) Würzburg
Supervisor: Prof. Dr. M. Hudecek, University Hospital Würzburg, Division of MedicineII
2012 – 2017 Specialty training Internal Medicine at University Hospital Würzburg, Division of Medicine II
Since 2017 German Society of Internal Medicine (DGIM), membership
Since 2015 Ad-hoc reviewer for high-impact journals (Haematologica, BMC Cancer, Leukemia &
Lymphoma)
2015 Rising Stars Award at the 15th International Myeloma Workshop, Rome (Italy)
Since 2014 German Society of Hematology and Medical Oncology (DGHO), membership
2013 – 2015 MENTORINGmed Program of the Medical Faculty Würzburg
2011 – 2012 Studienstiftung des Deutschen Volkes, scholarship
2008 – 2009 German Academic Exchange Service (DAAD), scholarship
2007 – 2008 Faculty council of the Medical Faculty Würzburg, elected students' representative
2005 – 2012 Max Weber-Programm zur Hochbegabtenförderung and Elitenetzwerk Bayern, scholarships
a) Articles published by outlets with scientific quality assurance, book publications and works accepted for publication, but not yet published
1. Gogishvili T*, Danhof S*, Prommersberger S, Rydzek J, Schreder M, Brede C, Einsele H, Hudecek M. SLAMF7-CAR T cells eliminate myeloma and confer selective fratricide of SLAMF7+ normal lymphocytes. Blood. 2017 Dec 28;130(26):2838-2847. *These authors contributed equally.
2. García-Guerrero E, Götz R, Doose S, Sauer M, Rodríguez-Gil A, Nerreter T, Kortüm KM, Pérez-Simón JA, Einsele H, Hudecek M, Danhof S. Upregulation of CD38 expression on multiple myeloma cells by novel HDAC6 inhibitors is a class effect and augments the efficacy of daratumumab. Leukemia. 2020 Apr 29. doi: 10.1038/s41375-020-0840-y
3. Nerreter T, Letschert S, Götz R, Doose S, Danhof S, Einsele H, Sauer M, Hudecek M. Super-resolution microscopy reveals ultra-low CD19 expression on myeloma cells that triggers elimination by CD19 CAR-T. Nat Commun. 2019 Jul 17;10(1):3137.
4. García-Guerrero E, Gogishvili T, Danhof S, Schreder M, Pallaud C, Pérez-Simón JA, Einsele H, Hudecek M. Panobinostat induces CD38 upregulation and augments the antimyeloma efficacy of daratumumab. Blood. 2017 Jun 22;129(25):3386-3388.
5. Roex MCJ, van Balen P, Germeroth L, Hageman L, van Egmond E, Veld SAJ, Hoogstraten C, van Liempt E, Zwaginga JJ, de Wreede LC, Meij P, Vossen ACTM, Danhof S, Einsele H, Schaafsma MR, Veelken H, Halkes CJM, Jedema I, Falkenburg JHF. Generation and infusion of multi-antigen-specific T cells to prevent complications early after T-cell depleted allogeneic stem cell transplantation-a phase I/II study. Leukemia. 2020 Mar;34(3):831-844.
6. Danhof S, Schreder M, Knop S, Rasche L, Strifler S, Löffler C, Gogishvili T, Einsele H, Hudecek M. Expression of programmed death-1 on lymphocytes in myeloma patients is lowered during lenalidomide maintenance. Haematologica. 2018 Mar;103(3):e126-e129.
7. Barrio S, Munawar U, Zhu YX, Giesen N, Shi CX, Viá MD, Sanchez R, Bruins L, Demler T, Müller N, Haertle L, Garitano A, Steinbrunn T, Danhof S, Cuenca I, Barrio-Garcia C, Braggio E, Rosenwald A, Martinez-Lopez J, Rasche L, Raab MS, Stewart AK, Einsele H, Stühmer T, Kortüm KM. IKZF1/3 and CRL4CRBN E3 ubiquitin ligase mutations and resistance to immunomodulatory drugs in multiple myeloma. Haematologica. 2020 May;105(5):e237-e241.
8. Danhof S, Strifler S, Hose D, Kortüm M, Bittrich M, Hefner J, Einsele H, Knop S, Schreder M. Clinical and biological characteristics of myeloma patients influence response to elotuzumab combination therapy. J J Cancer Res Clin Oncol. 2019 Mar;145(3):561-571.
9. Danhof S, Schreder M, Rasche L, Strifler S, Einsele H, Knop S. 'Real-life' experience of preapproval carfilzomib-based therapy in myeloma – analysis of cardiac toxicity and predisposing factors. Eur J Haematol. 2016 Jul;97(1):25-32.
10. Danhof S, Hudecek M, Smith EL. CARs and other T cell therapies for MM: the clinical experience. Best Pract Res Clin Haematol. 2018 Jun;31(2):147-157.