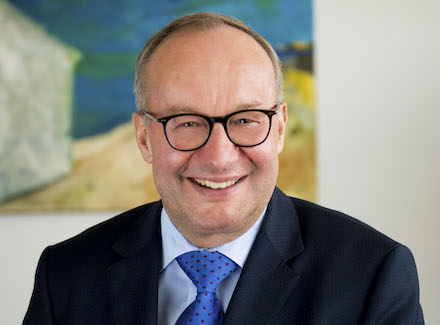 Prof. Dr. med. Hermann Einsele
Medizinische Klinik und Poliklinik II,
Medizinische Fakultät
Julius Maximilians-Universität Würzburg
Oberdürrbacher Str. 6
97080 Würzburg
Phone:  +49 931 20140000
Fax: +49 931 201640001
E-Mail: einsele_h@ukw.de
University training and degree
1982 – 84 Studies of Medicine Eberhard Karls University of Tübingen
1980 – 82 Studies of Medicine; Lord Owen's University Manchester and Guy's Hospital London
1977 – 80 Studies of Medicine Eberhard Karls University of Tübingen
Advanced academic qualifications
1996 Board Examination in Hematology and Oncology
1992 Habilitation at the University of Tübingen
1991 Venia legendi for Internal Medicine
1986 MD thesis at the University of Tübingen, Institute for Experimental and Clinical Pharmacology and Toxicology (Supervisor: Prof. Dr. Dr. h.c. H. Remmer, Prof. Dr. Dr. h.c. H.D. Waller); grade: "summa cum laude"
1984 Approbation as physician

Postgraduate professional career
06/2001 – 12/2004 Head of the Allogeneic Stem Cell Transplantation Programme (Tübingen)
06/1999 – 12/2004 Associate Professor, Eberhard Karls University Tübingen
01/1993 – 06/1999 Assistant Professor, Eberhard Karls University Tübingen, Department Internal Medicine II (Director: Prof. Dr. L. Kanz)
04/1984 – 01/1993 Scientific Assistant, Eberhard Karls University Tübingen
Since 2015 Vice President of the JMU Würzburg
Since 2015 Member of the Faculty Advisory Board of the Faculty of Medicine, Friedrich-Schiller-University Jena
Since 2014 Member of the Academy of Science (Mainz)
2011 – 2015 Vice Dean of the Faculty of Medicine, University of Würzburg
2012 Nobel Lecturer Stem Cell Biology/Transplantation, Nobel Forum Karolinska
Institute
2011 Honory Fellow of the Royal College of Pathology (London)
2003 Visiting Professor, City of Hope Hospital, Duarte, USA
2003 Van Bekkum Award of the European Group for Blood and Marrow
Transplantation (EBMT)
2000 Visiting Professor, City of Hope Hospital, Duarte, USA
a) Articles published by outlets with scientific quality assurance, book publications and works accepted for publication, but not yet published
1. Gudipati V, Rydzek J, Doel-Perez I, Dos Reis Gonçalves V, Scharf L, Königsberger S, Lobner E, Kunert R, Einsele H, Stockinger H, Hudecek M, Huppa JB. Inefficient CAR-proximal signaling blunts antigen sensitivity. Nat Immunol 2020 Jul 6. doi: 10.1038/s41590-020-0719-0.
2. Topp MS, Duell J, Zugmaier G, Attal M, Moreau P, Langer C, Krönke J, Facon T, Salnikov AV, Lesley R, Beutner K, Kalabus J, Rasmussen E, Riemann K, Minella AC, Munzert G, Einsele H. Anti-B-Cell Maturation Antigen BiTE Molecule AMG 420 Induces Responses in Multiple Myeloma. J Clin Oncol 2020 Jan 2:JCO1902657.
3. Moreau P, Sonneveld P, Boccadoro M, Cook G, Mateos MV, Nahi H, Goldschmidt H, Dimopoulos MA, Lucio P, Bladé J, Delforge M, Hajek R, Ludwig H, Facon T, Miguel JFS, Einsele H. Chimeric antigen receptor T-cell therapy for multiple myeloma: a consensus statement from The European Myeloma Network. Haematologica 2019;104(12):2358-2360.
4. Querques I, Mades A, Zuliani C, Miskey C, Alb M, Grueso E, Machwirth M, Rausch T, Einsele H, Ivics Z, Hudecek M, Barabas O. A highly soluble Sleeping Beauty transposase improves control of gene insertion. Nat Biotechnol 2019;37(12):1502-1512.
5. Banaszek A, Bumm TGP, Nowotny B, Geis M, Jacob K, Wölfl M, Trebing J, Kucka K, Kouhestani D, Gogishvili T, Krenz B, Lutz J, Rasche L, Hönemann D, Neuweiler H, Heiby JC, Bargou RC, Wajant H, Einsele H, Riethmüller G, Stuhler G. On-target restoration of a split T cell-engaging antibody for precision immunotherapy. Nat Commun 2019;10(1):5387.
6. Knop S, Engelhardt M, Liebisch P, Meisner C, Holler E, Metzner B, Peest D, Kaufmann M, Bunjes D, Straka C, Fischer T, Sezer O, Hentrich M, Ostermann H, Bassermann F, Hess G, Hertenstein B, Freund M, Kropff M, Schmidt CA, Wolf HH, Jung W, Frickhofen N, Mielke S, Bargou RC, Maschmeyer G, Svaldi M, Langer CH, Gramatzki M, Hebart H, Kanz L, Einsele H; Deutsche Studiengruppe Multiples Myelom. Allogeneic transplantation in multiple myeloma: long-term follow-up and cytogenetic subgroup analysis. Leukemia 2019;33(11):2710-2719.
7. Neuenhahn M, Albrecht J, Odendahl M, Schlott F, Dössinger G, Schiemann M, Lakshmipathi S, Martin K, Bunjes D, Harsdorf S, Weissinger EM, Menzel H, Verbeek M, Uharek L, Kröger N, Wagner E, Kobbe G, Schroeder T, Schmitt M, Held G, Herr W, Germeroth L, Bonig H, Tonn T, Einsele H, Busch DH, Grigoleit GU. Transfer of minimally manipulated CMV-specific T cells from stem cell or third-party donors to treat CMV infection after allo-HSCT. Leukemia 2017;31(10):2161-2171.
8. Lonial S, Dimopoulos M, Palumbo A, White D, Grosicki S, Spicka I, Walter-Croneck A, Moreau P, Mateos MV, Magen H, Belch A, Reece D, Beksac M, Spencer A, Oakervee H, Orlowski RZ, Taniwaki M, Röllig C, Einsele H, Wu KL, Singhal A, San-Miguel J, Matsumoto M, Katz J, Bleickardt E, Poulart V, Anderson KC, Richardson P; ELOQUENT-2 Investigators Elotuzumab Therapy for Relapsed or Refractory Multiple Myeloma. N Engl J Med 2015;373(7):621-31.
9. Stemberger C, Graef P, Odendahl M, Albrecht J, Dössinger G, Anderl F, Buchholz VR, Gasteiger G, Schiemann M, Grigoleit GU, Schuster FR, Borkhardt A, Versluys B, Tonn T, Seifried E, Einsele H, Germeroth L, Busch DH, Neuenhahn M. Lowest numbers of primary CD8(+) T cells can reconstitute protective immunity upon adoptive immunotherapy. Blood 2014;124(4):628-37.
10. Einsele H, Hamprecht K. Immunotherapy of cytomegalovirus infection after stem-cell transplantation: a new option? Lancet 2003;362(9393).