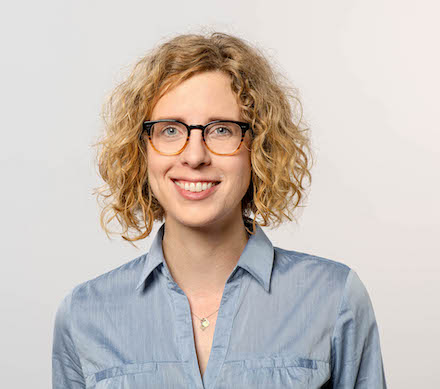 Prof. Dr. Kathrin Schumann
Institut für Medizinische Mikrobiologie, Immunologie
und Hygiene (MIH)
Technische Universität München
Trogerstr. 30
81675 München
Phone: + 49 89 4140 9045
Email:  kathrin.schumann@tum.de
University training and degree
2002 – 2008 Biochemistry Eberhard-Karls-Universität, Tübingen, Germany
Diploma thesis Max Planck Institute for Biochemistry, Department of Molecular Medicine, Martinsried, Germany; Mentor: Prof. Dr. Michael Sixt
Advanced academic qualifications
PhD thesis Max Planck Institute for Biochemistry, Department of Molecular Medicine, Martinsried, Germany/IST Austria, Maria Gugging, Austria; Mentor: Prof. Dr. Michael Sixt
Postgraduate professional career
Since 2018 Rudolf Mößbauer Tenure Track Assistant Professor "Engineering Immune Cells for Therapy", Institute for Medical Microbiology, Immunology and Hygiene, TUM, München, Germany
2014 – 2018 Postdoctoral Fellow, University of California San Francisco, Diabetes Center, San Francisco, USA
2011 – 2014 Novartis presidential postdoc program fellow, Novartis Institutes for Biomedical Research, Basel, Switzerland
2020 Selection Symposium of the Paul-Ehrlich- and Ludwig-Darmstädter-Young Talent Award 2021 (finalist)
2016 – 2018 Stipend from the Deutsche Forschungsgemeinschaft (Postdoctoral Fellowship)
2015 C. Garrison Fathman Fund Award, FOCIS conference, San Diego, USA
2015 FOCIS conference, Poster of Merit, San Diego, USA
2010 Travel stipend of the 14th international congress of immunology, Kobe, Japan
a) Articles published by outlets with scientific quality assurance, book publications and works accepted for publication, but not yet published
1. Schumann K*§, Raju SS*, Lauber M, Kolb S, Shifrut E, Cortez JT, Skartsis N, Nguyen VQ, Woo JM, Roth TL, Yu R, Nguyen MLT, Simeonov DR, Nguyen DN, Targ S, Gate RE, Tang Q, Bluestone JA, Spitzer MH, Ye CJ, Marson A§. Functional CRISPR dissection of gene networks controlling human regulatory T cell identity. Nat Immunol. 21:1456-1466 (2020).
2. Lowe MM, Boothby I, Clancy S, Ahn RS, Liao W, Nguyen DN, Schumann K, Marson A, Mahuron KM, Kingsbury GA, Liu Z, Munoz Sandoval P, Rodriguez RS, Pauli ML, Taravati K, Arron ST, Neuhaus IM, Harris HW, Kim EA, Shin US, Krummel MF, Daud A, Scharschmidt TC, Rosenblum MD. Regulatory T cells use arginase 2 to enhance their metabolic fitness in tissues. JCI Insight. 19; 4(24) (2019).
3. Schober K, Müller TR, Gökmen F, Grassmann S, Effenberger M, Poltorak M, Stemberger C, Schumann K, Roth TL, Marson A, Busch DH. Orthotopic replacement of T-cell receptor α- and β-chains with preservation of near-physiological T-cell function. Nat Biomed Eng. 12 :974-984 (2019).
4. Hultquist JF, Hiatt J, Schumann K, McGregor MJ, Roth TL, Haas P, Doudna JA, Marson A, Krogan NJ. CRISPR-Cas9 genome engineering of primary CD4(+) T cells for the interrogation of HIV-host factor interactions. Nat Protoc, 14:1-27 (2019)
5. Roth TL, Puig-Saus C, Ruby Y, Shifrut E, Carnevale J, Hiatt J, Saco J, Li H, Li J, Tobin V, Nguyen D, Ferris AM, Chen J, Schickel JN, Pellerin L, Carmody D, Alkorta-Aranburu G, Del Gaudio D, Matsumoto H, Morell M, Mao Y, Quadros R, Gurumurthy C, Smith B, Haugwitz M, Hughes SH, Weissman J, Schumann K, May AP, Ashworth A, Kupfer G, Greeley S, Bacchetta R, Meffre E, Roncarolo MG, Romberg N, Herold KC, Ribas A, Leonetti MD, Marson A. Reprogramming human T cell function and specificity with non-viral genome targeting. Nature, 559:405-409 (2018)
6. Rupp LJ*, Schumann K*, Roybal KT, Gate RE, Ye JY, Lim WA, Marson A. CRISPR/Cas9-mediated PD-1 disruption enhances anti-tumor efficacy of human chimeric antigen receptor T cells. Sci Rep., 7:737 (2017)
7. Hultquist JF*, Schumann K*, Woo JM, Manganaro L, Doudna JA, Simon V, Krogan NJ, Marson A. A Cas9 ribonucleoprotein platform for functional genetic studies of HIV-Host interactions in primary human T Cells. Cell Reports, 17:1438-1452 (2016)
8. Schumann K*, Lin S*, Boyer E, Simeonov DR, Subramaniam M, Gate RE, Haliburton GDE, Ye CJ, Bluestone JA, Doudna JA, Marson A. Generation of knock-in primary human T cells using Cas9 ribonucleoproteins. PNAS, 112:10437-42 (2015)
9. Schumann K*, Lämmermann T*, Bruckner M, Legler DF, Polleux J, Spatz J, Schuler G, Förster R, Lutz MB, Sorokin L, Sixt M. Immobilized chemokine fields and soluble chemokine gradients cooperatively shape migration patterns of dendritic cells. Immunity 32: 703-13 (2010)
10. Renkawitz J, Schumann K, Weber M, Lämmermann T, Pflicke H, Piel M, Polleux J, Spatz JP, Sixt M. Adaptive force transmission in amoeboid cell migration. Nat Cell Biol, 11: 1438-43 (2009)