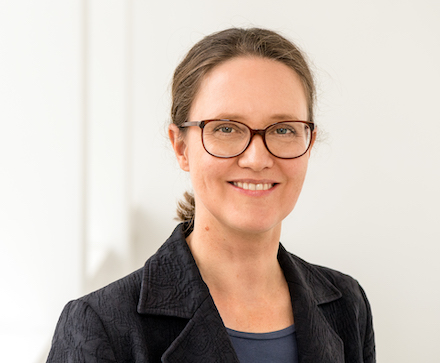 Prof. Dr. med. Angela M. Krackhardt
Medizinische Klinik und Polikinik III, Fakultät für Medizin
Technische Universität München
Ismaningerstr. 22
81675 München
Phone: +49 89 4140 4124
Email: angela.krackhardt@tum.de
University training and degree
1989 – 1996 Studies in Human Medicine, Freie Universität Berlin, 3. State examination board
Advanced academic qualifications
2013 Board certification in Hematology/Medical Oncology, Bayerische Landesärztekammer
2011 Board certification in Internal Medicine, Bayerische Landesärztekammer
2010 Habilitation in Internal Medicine, TU Munich, Title: Antigen-specific cellular immunotherapies – perspectives – challenges – strategies, Mentor: Prof. Dr. C. Peschel
1998 Doctoral thesis, Freie Universität Berlin, Title: In vitro elimination of malignant cells in patients with chronic myeloid leukemia by activation of autologous lymphocytes with combination of cytokines and anti-CD3 monoclonal antibodies – analysis of efficacy by flow cytometry and PCR, Mentor: Prof. Dr. E. Thiel
Postgraduate professional career
2010 – 2018 Clinical fellow and senior physician with focus melanoma and immunotherapy, IIIrd Medical Department, TUM School of Medicine, TU München, Munich
2005 – 2010 Junior Research Group Leader, Institute of Molecular Immunology; Helmholtz Zentrum München, National Research Institute for Environment and Health, Munich
2002 – 2004 Clinical fellow and research associate, IIIrd Medical Department, Hematology, Oncology and Transfusion Medicine, Campus Benjamin Franklin, Charité, Berlin
2001 – 2002 Instructor in Medicine, Faculty, Adult Oncology, Dana Farber Cancer Institute, Harvard Medical School, Boston, MA, USA
1999 – 2001 Research Associate, Adult Oncology, Dana Farber Cancer Institute, Harvard Medical School, Boston, MA, USA
1996 – 1999 Clinical fellow and research associate, IIIrd Medical Department, Hematology, Oncology and Transfusion Medicine, Universitätsklinikum Benjamin Franklin, Freie Universität Berlin, Berlin
2019 Advisory Board Immune Image EU Consortium
2019 Faculty Board of the PhD Graduate Program, Faculty of Medicine, TUM
2015 DKTK Faculty and Steering Management board Member, Munich
2012 Scientific advisory council of the IZKF, Faculty Board of the Graduate Program Translational Medicine
2012 Faculty Board of the Graduate Program Translational Medicine, TUM, Munich
2008 BayImmuNet Research Project Group Award
2005 Life Science Foundation Research Award
Member of the German Society of Immunology; Industrial Advisory Boards: secarna, Vaccibody, Zelluna, Kiadis, BMS, Novartis, Takeda, Roche, Sanofi, Pierre-Fabre , Gilead, Janssen; Reviewer Activity (selection): Science Immunology, BLOOD, Clinical Cancer Research, Gene Therapy Advisory Committee (GTAC), Journal of Translational Medicine, Journal of Immunology, Journal of Immunological Methods, Deutsche Krebshilfe, Deutsche Forschungsgemeinschaft (DFG), Deutscher Akademischer Austauschdienst (DAAD), Genome Canada (GAPP)
a) Articles published by outlets with scientific quality assurance, book publications and works accepted for publication, but not yet published (*equal contribution, #corresponding author)
1. Khoshnevisan R, Anderson M, Babcock S, Anderson S, Illig D, Marquardt B, Sherkat R, Schroder K, Moll F, Hollizeck S, Rohlfs M, Walz C, Adibi P, Rezaei A, Andalib A, Koletzko S, Muise AM, Snapper SB, Klein C, Thiagarajah JR*,#, and Kotlarz D*,#. NOX1 Regulates Collective and Planktonic Cell Migration: Insights From Patients With Pediatric-Onset IBD and NOX1 Deficiency. Inflamm Bowel Dis 2020; 26:1166-1176
2. Magg T, Shcherbina A, Arslan D, Desai MM, Wall S, Mitsialis V, Conca R, Unal E, Karacabey N, Mukhina A, Rodina Y, Taur PD, Illig D, Marquardt B, Hollizeck S, Jeske T, Gothe F, Schober T, Rohlfs M, Koletzko S, Lurz E, Muise AM, Snapper SB, Hauck F, Klein C, and Kotlarz D#. CARMIL2 Deficiency Presenting as Very Early Onset Inflammatory Bowel Disease. Inflamm Bowel Dis 2019;25:1788-1795.
3. Goettel JA*, Kotlarz D*, Emani R, Canavan JB, Konnikova L, Illig D, Frei SM, Field M, Kowalik M, Peng K, Gringauz J, Mitsialis V, Wall SM, Tsou A, Griffith AE, Huang Y, Friedman JR, Towne JE, Plevy SE, O'Hara Hall A, and Snapper SB. Low-Dose Interleukin-2 Ameliorates Colitis in a Preclinical Humanized Mouse Model. Cell Mol Gastroenterol Hepatol 2019;8:193-195.
4. Illig D, Navratil M, Kelecic J, Conca R, Hojsak I, Jadresin O, Coric M, Vukovic J, Rohlfs M, Hollizeck S, Bohne J, Klein C*, and Kotlarz D*,#. Alternative Splicing Rescues Loss of Common Gamma Chain Function and Results in IL-21R-like Deficiency. J Clin Immunol 2019;39:207-215.
5. Li Y, Fuhrer M, Bahrami E, Socha P, Klaudel-Dreszler M, Bouzidi A, Liu Y, Lehle AS, Magg T, Hollizeck S, Rohlfs M, Conca R, Field M, Warner N, Mordechai S, Shteyer E, Turner D, Boukari R, Belbouab R, Walz C, Gaidt MM, Hornung V, Baumann B, Pannicke U, Al Idrissi E, Ali Alghamdi H, Sepulveda FE, Gil M, de Saint Basile G, Honig M, Koletzko S, Muise AM, Snapper SB, Schwarz K*, Klein C*, and Kotlarz D*,#. Human RIPK1 deficiency causes combined immunodeficiency and inflammatory bowel diseases. Proc Natl Acad Sci U S A 2019;116:970-975.
6. Lehle AS, Farin HF, Marquardt B, Michels BE, Magg T, Li Y, Liu Y, Ghalandary M, Lammens K, Hollizeck S, Rohlfs M, Hauck F, Conca R, Walz C, Weiss B, Lev A, Simon AJ, Gross O, Gaidt MM, Hornung V, Clevers H, Yazbeck N, Hanna-Wakim R, Shouval DS, Warner N, Somech R, Muise AM, Snapper SB, Bufler P, Koletzko S, Klein C*, and Kotlarz D*,#. Intestinal Inflammation and Dysregulated Immunity in Patients With Inherited Caspase-8 Deficiency. Gastroenterology 2019;156:275-278.
7. Kotlarz D*, Marquardt B*, Baroy T, Lee WS, Konnikova L, Hollizeck S, Magg T, Lehle AS, Walz C, Borggraefe I, Hauck F, Bufler P, Conca R, Wall SM, Schumacher EM, Misceo D, Frengen E, Bentsen BS, Uhlig HH, Hopfner KP, Muise AM, Snapper SB, Stromme P, and Klein C. Human TGF-beta1 deficiency causes severe inflammatory bowel disease and encephalopathy. Nat Genet 2018;50:344-348.
8. Kotlarz D*, Zietara N*, Uzel G, Weidemann T, Braun CJ, Diestelhorst J, Krawitz PM, Robinson PN, Hecht J, Puchalka J, Gertz EM, Schaffer AA, Lawrence MG, Kardava L, Pfeifer D, Baumann U, Pfister ED, Hanson EP, Schambach A, Jacobs R, Kreipe H, Moir S, Milner JD, Schwille P, Mundlos S, and Klein C. Loss-of-function mutations in the IL-21 receptor gene cause a primary immunodeficiency syndrome. J Exp Med 2013;210:433-443.
9. Kotlarz D*, Beier R*, Murugan D*, Diestelhorst J, Jensen O, Boztug K, Pfeifer D, Kreipe H, Pfister ED, Baumann U, Puchalka J, Bohne J, Egritas O, Dalgic B, Kolho KL, Sauerbrey A, Buderus S, Gungor T, Enninger A, Koda YK, Guariso G, Weiss B, Corbacioglu S, Socha P, Uslu N, Metin A, Wahbeh GT, Husain K, Ramadan D, Al-Herz W, Grimbacher B, Sauer M, Sykora KW, Koletzko S, and Klein C. Loss of interleukin-10 signaling and infantile inflammatory bowel disease: implications for diagnosis and therapy. Gastroenterology 2012;143:347-355.
10. Glocker EO*, Kotlarz D*, Boztug K*, Gertz EM, Schaffer AA, Noyan F, Perro M, Diestelhorst J, Allroth A, Murugan D, Hatscher N, Pfeifer D, Sykora KW, Sauer M, Kreipe H, Lacher M, Nustede R, Woellner C, Baumann U, Salzer U, Koletzko S, Shah N, Segal AW, Sauerbrey A, Buderus S, Snapper SB, Grimbacher B, and Klein C. Inflammatory bowel disease and mutations affecting the interleukin-10 receptor. N Engl J Med 2009;361:2033-2045.