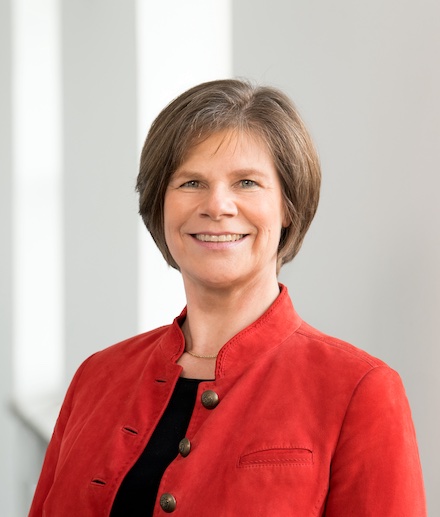 Univ.-Prof. Dr. med. Ulrike Protzer
Institut für Virologie
Technische Universität München
Trogerstr. 30
81675 München
Phone: +49 89 4140 6820
Email:  protzer@tum.de
University training and degree
1982-1988 of Medicine Universities of Erlangen (D), Durban (SA) and Basel (CH)
Scholarship for Highly Talented Students, Bavarian Elite Academy; MD thesis 1988
Advanced academic qualifications
2000 Habilitation: Virology, University of Heidelberg, Mentor: Heinz Schaller
1993 Dissertation: Anesthesiology, University of Erlangen, Mentor: Erich Rügheimer
Postgraduate professional career
2002 – 2007 Junior group leader "Mol. Infectiology" at the Center for Molecular Medicine Cologne
2000 – 2002 Clinician Scientist University of Heidelberg
1996 – 2000 Postdoc Center for Molecular Biology (ZMBH), University of Heidelberg; Department "Virus – host interaction of hepatitis B virus" (H. Schaller)
1991 – 1996 Clinician Scientist, University of Mainz
since 2016 2nd vice dean, School of Medicine at TUM
since 2013 Member advisory board University Hospital Cologne,
since 2016 Member supervisory board of the University of Regensburg
2013 – 2019 Member supervisory / scientific advisory board Heinrich Pette Institute Hamburg
2018 – 2019 Member advisory board of the mayor of Berlin on health research and services
2011 – 2018 Member of the board and vice speaker of the German Center for Health Research
2010 – 2012 Member advisory board "Health Research", German Ministry for Education and Research
a) Articles published by outlets with scientific quality assurance, book publications and works accepted for publication, but not yet published
1. Michler T, Kosinska A, Festag J, Bunse T, Su J, Ringelhan M, Imhof H, Grimm D, Steiger K, Mogler C, Heikenwalder M, Michel ML, Guzman CA, Milstein S, Sepp-Lorenzio L, Knolle P, Protzer U. 2020. Knockdown of Virus Antigen Expression Increases Therapeutic Vaccine Efficacy in High-titer HBV Carrier Mice. Gastroenterology,158: 1762-1775; PMID: 32001321
2. Wisskirchen K*, Kah J*, Malo A, Asen T, Volz T, Allweiss L, Wettengel JM, Lütgehetmann M, Urban S, Bauer T, Dandri M*, Protzer U*. 2019. T-Cell Receptor Grafting allows Virological Control of Hepatitis B Virus Infection. Journal Clinical Investigation, 129(7):2932-2945. Doi 10.1172/JCI120228. PMID 31039136.
3. Gehring A and Protzer U. 2019.Targeting Innate and Adaptive Immune Responses to Cure Chronic HBV Infection. Gastroenterology, 156(2):325-337. PMID 30367834
4. Burwitz B*, Wettengel J*, Mück-Häusl M*, Ringelhan M, Ko C, Festag MM, Hammond KB, Northrup M, Bimber BN, Jacob T, Reed JS, Reed N, Park B, Moller-Tank S, Esser K, Greene JM, Wu HL, Abdulhaqq S, Webb G, Sutton WF, Klug A, Swanson T, Legasse AW, Vu TQ, Asokan A, Haigwood NL, Protzer U*, Sacha J*. 2017. Hepatocytic Expression of Human Sodium-Taurocholate Cotransporting Polypeptide Enables Hepatitis B Virus Infection of Macaques.
Nature Communications, 15; 8 (1): 2146. PMID: 29247188
5. Xia Y*, Stadler D*, Lucifora J, Reisinger F, Webb D, Hösel M, Michler T, Wisskirchen K, Cheng X, Zhang K, Chou W-M, Wettengel J, Malo A, Bohne F, Hoffmann D, Eyer F, Thimme R, Thasler WE, Heikenwalder M and Protzer U. 2016. Interferon-γ and Tumor Necrosis Factor-α Produced by T cells Reduce the HBV Persistence Form, cccDNA, Without Cytolysis. Gastroenterology, 150:194-202.
6. Dargel C, Bassani-Sternberg M, Hasreiter J, Zani F, Bockmann JH, Thiele F, Bohne F, Wisskirchen K, Wilde S, Sprinzl MF, Schendel DJ, Krackhardt AM, Uckert W, Wohlleber D, Schiemann M, Stemmer K, Heikenwälder M, Busch DH, Richter G, Mann M, Protzer U. 2015. T Cells Engineered to Express a T-Cell Receptor Specific for Glypican-3 to Recognize and Kill Hepatoma Cells In Vitro and in Mice. Gastroenterology 149: 1042-1050.
7. Lucifora J*, Xia Y*, Reisinger F, Zhang K, Stadler D, Cheng X, Sprinzl M, Koppensteiner H, Li Y, Makowska Z, Volz T, Remouchamps C, Chou W-M, Thasler W, Hüser N, Durantel D, Münk C, Heim MH, Browning JL, Dejardin E, Dandri M, Schindler M, Heikenwalder M* and Protzer U*. 2014. Specific and non-hepatotoxic degradation of nuclear hepatitis B virus cccDNA.
Science, 343: 1121-1128.
8. Krebs K, Böttinger N, Huang LR, Chmielewski M, Arzberger S, Gasteiger G, Jäger C, Schmitt E, Bohne F, Aichler M, Uckert W, Abken H, Heikenwalder M, Knolle P and Protzer U. 2013. T cells expressing a chimeric antigen receptor that binds hepatitis B virus envelope proteins control virus replication in mice. Gastroenterology 145(2):456-65.
9. Huang LR, Wohlleber D, Reisinger F, Jenne CN, Cheng RL, Abdullah Z, Schildberg FA, Odenthal M, Dienes HP, van Rooijen N, Schmitt E, Garbi N, Croft M, Kurts C, Kubes P, Protzer U, Heikenwalder M* & Knolle PA*. 2013. Intrahepatic myeloid cell-aggregates enable local CD8+ T cell expansion and successful immunotherapy against chronic viral liver infection.
Nature Immunology, 14: 574-583.
10. Protzer U, Maini M, Knolle P. 2012. Living in the Liver. Nature Reviews in Immunology, 12: 201-213.